The days are getting shorter and the evenings cooler but there is still a pile of fresh produce in store loaded with goodies 
Mushrooms
Whether you opt for mild-flavoured button mushrooms or the large and meaty field (Portobello) mushrooms, these funny-looking fungi pack a solid nutritional punch. In fact, the white button mushrooms are said to contain more antioxidant properties than other richer-flavoured varieties.
Mushrooms contain moderate amounts of protein - dieters love their fat-burning properties - as well as lots of vitamins, particularly B vitamins, and minerals such as potassium. They're also a powerful source of fibre and selenium - a mineral New Zealanders struggle to consume in adequate amounts. One serving of mushrooms provides a third of the recommended daily amount of selenium. Those looking to control high cholesterol should eat more mushrooms as the fibre helps lower levels.
Storage: Mushrooms will "sweat" in plastic so paper bags are best for storage in the fridge. Keep them separate from ethylene-producing produce such as avocados, melons, pears, apples and tomatoes, so they last longer. Like most vegies, they're best eaten within four or five days - for taste and nutritional value.
Preparation: Cultivated mushrooms don't need washing or peeling - just wipe with a paper towel.
Cooking: Sliced mushrooms cooked in butter is hard to beat but mushrooms liven up many a dish. Make a mushroom sauce by frying two cups mushrooms with finely chopped onion and garlic and then adding a couple of cups of chicken stock. Simmer until the sauce thickens, adding a dessertspoon of cornflour if necessary. You can then add this to steamed vegetables, baked potato, pasta or meat.
You could make individual mushroom pies by spooning the mushroom sauce into ramekins and covering with cubes or slices of French bread. Sprinkle on grated cheese then grill in the oven.


Kebabs with peanut sauce  (from Feeding Little Tummies)
Children enjoy pulling the different pieces from the kebab sticks and dipping them into the sauce.   
Marinade
juice of ½ lemon or lime
1 tsp of lemon zest
4 Tbs soy sauce or tamari
1 Tbs sesame or olive oil
1 Tbs honey
1-2 cloves garlic, finely chopped
1 tsp root ginger, grated, or
¼ tsp ground ginger
Kebabs
375g packet firm tofu, cut into 2cm cubes or
400g chicken meat
1 red capsicum, deseeded and cubed
2-3 small zucchini, cut into 1cm slices
100g small button mushrooms, halved
1 cup fresh or canned pineapple chunks
10-12 bamboo skewers soaked in a sink of water for 20 minutes to prevent burning during cooking

Peanut sauce
4 Tbs peanut butter or other nut butter
1 cup coconut milk
juice of half a lime or lemon
1 Tbs soy sauce or tamari
1 tsp sugar or honey
1 tsp finely grated root ginger
1 clove garlic, chopped
pinch of cayenne (optional)

Mix together the marinade ingredients in a bowl.
Combine the tofu or chicken with the marinade, then cover and refrigerate for an hour or overnight.
Meanwhile, combine the peanut sauce ingredients in a small saucepan. Gently warm over a low heat, thinning the sauce with hot water if necessary. Adjust taste with extra lime, soy sauce or sugar.
Thread the tofu or chicken and vegetable pieces onto the soaked bamboo skewers, alternating colours, then cut off the sharp point of the skewers with kitchen scissors. Using a pastry brush, baste the kebabs with the remaining marinade.
Barbecue or grill the kebabs under a hot oven grill, turning them until they are evenly browned, about 10 minutes.   Serve on a bed of rice with a small dish of the peanut sauce for dipping.
Zucchini
Zucchini might look palid and even nutritionally dull compared with a powerhouse plant like broccoli but in fact the zucchini, or courgette, still contains a good supply of nutritional goodies. And better still, most kids seem to like it. If you keep the skin on, zucchini is a great source of heart-friendly potassium and fibre as well as providing a good supply of vitamin A, many B vitamins and minerals such as manganese. You can also get the yellow variety that's rich in antioxidants such as carotene.
Buying: Look for shiny dark green or bright yellow produce, bypassing any with a dull, pitted skin. If you have zucchini in the garden don't let them grow too large as you'll lose out on flavour.
Storage: Storing in the fridge is best and use within five days.
Cooking: Frying brings out the sweet, nutty flavour, and barbecuing strips (zucchini cut length-wise) is highly recommended.
Zucchini are surprisingly versatile. You can stuff them (with mince, rice, tomato and red pepper), use in a stir-fry or pasta dish or grate them to make zucchini bread or fritters.

Fluffy zucchini fritters (from Feeding Little Tummies)
These can be made with any combination  of vegetables, including sweetcorn, diced red capsicum, grated carrot, pumpkin and wilted spinach.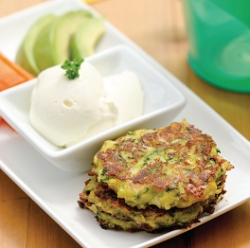 Ingredients
3 cups zucchini, grated  (3-4 whole zucchini)
2 tbs parsley, chopped (optional)
2 eggs, lightly beaten
Salt and pepper
1 cup cheese, grated
1/3 to 1/2 cup flour
1 tsp baking powder
oil or ghee (clarified butter) for frying

How to make:
Drain the grated zucchini in a sieve, squeezing out as much liquid as possible. Combine with the remaining ingredients in a mixing bowl. Set aside for 10 minutes to allow the starch in the flour to absorb the liquid. The mixture should be thick enough to hold its shape when dropped in the pan. You may need to add extra four to thicken the mixture - add one tablespoon at a time until the right consistency is reached.
Heat a heavy-based frying pan over a moderate heat. When hot, add a little oil or ghee, swirling it around the pan until the base is evenly coated.
Drop spoonfuls of the batter into the pan - the size of the fritters can vary - make small ones for children to eat with their fingers, and larger ones for adults.
Cook until bubbles appear on the surface of the fritters and the edges start to brown, then flip over and cook for a further 2-3 minutes until golden brown.
Remove to a plate and keep warm in the oven or cover with foil. Repeat with the remaining mixture, adding a little oil or ghee to the pan between batches.
Serve with Zesty Yoghurt Sauce: Mix 1 cup of plain yoghurt with 1 tsp wholegrain mustard, 1 tsp finely chopped lemon zest and 1-2 cloves chopped garlic. Season with salt and pepper.
Variation: For a fluffier fritter, separate the eggs and whisk the egg whites until stiff. Combine the egg yolks with the fritter ingredients as above, then gently fold through the egg whites before cooking.

Feijoas
Known elsewhere as "pineapple guavas", Feijoas are a famously Kiwi fruit, despite their Brazilian origins. Feijoa lovers look forward eagerly to the first green fruits arriving in the shops in late autumn or, if they're lucky enough, to picking their own from the tree or hedge at home.
Feijoas are chock-full of vitamin C, fibre and antioxidants. They are highly alkaline, helping to balance the pH of the body and also a good source of folate and cancer-inhibiting saponins and flavonoids.
Eat two or three a day and you're set to fight off a gamut of winter ills.
Eating: The easiest way to eat them is fresh, cut in half and using a spoon to scoop out the flesh  - the biggest hurdle to a taste sensation is getting the optimum level of ripeness. Feijoas are delicate fruit and don't have a long shelf life. They need to be handled with care - much as you would a peach.
Storage: Their peak time lasts only a few days and they quickly turn nasty if left too long. The feijoa season lasts just a couple of months so if you have an over-supply your best option is to freeze them so they can be used in cooking for many months to come. Scoop out the flesh, add a teaspoon or two of lemon juice to prevent browning, and freeze the pulp in small pottles.
Cooking: You can de-frost and use the feijoa pulp later to make apple and feijoa crumble, mid-winter smoothies with banana and yoghurt, or feijoa and apple muffins. You could also make a sticky feijoa sauce with sugar and a sprinkling of cinnamon and nutmeg. Then pour over ice cream.
Did you know?
Whether mushrooms are wild or cultivated they continue to grow after they are picked.

One Portabello mushroom generally has more potassium than a banana.

Mushrooms, particularly the Portbello, are often used in place of meat in many dishes.


Facts from The Edible Mushroom: A Gourmet Cook's Guide by Margaret Leibenstein
Feeding Little Tummies
Feeding Little Tummies: A Guide for New Zealand Parents & Caregivers by Nicola Galloway, RRP$39.99, is published by Craig Potton Publishing and available from bookstores nationwide or online from: www.craigpotton.co.nz .